For one week or for 10 nights, or 4 days in extension of a hotel stay, no doubt that a cruise is the best way to discover the Seychelles. The most beautiful beaches are only a few strokes from your yacht.
The archipelago of the Seychelles is situated 1000 km from the east coast of Africa. The islands and islets of the Seychelles are scattered in the Indian Ocean and stretch from the north-east to the south-west for a distance of 714 miles, from the island of Denis in the north-east down to the atoll of Assumption in the south-west.
The navigational route includes the 4 principal islands of Mahe, Praslin, Silhouet, Dyke and 2 dozens islets. The sailing area is an unspoilt paradise. You will be captivated by the beauty of these islands – granite rocks polished over the centuries by the sea and superb white sandy beaches.
The islands also have amazing equatorial fauna and flora, with rare and wonderful species of birds, animals, fish, trees and flowers.
Natural treasures include marine turtles, the valley of Mai with its sea coconuts and turquoise lagoons surrounded by fairytale-like coral reefs.
The Seychelles are indeed privileged, being one of the few remaining places on earth still completely untouched by the effects of pollution.
The politics of the Government of the Seychelles are based on respect for the environment and the preservation of their heritage. Thanks to this, you will be able on board your catamaran, to see and appreciate the intact splendour of these islands, just exactly as it was seen for the first time by the European sailors of the 18th century.
PRASLIN ISLAND CRUISE (8 days/7 nights)
Mahé / Mahé
This cruise allows you to discover the most famous granitic islands: Mahé - Cocos Island - La Digue, to explore with a bicycle or in an oxen cart - Cousin a natural reserve and its giant tortoises - Praslin and the Vallée de Mai - Grande Soeur - Curieuse - Mahé.
SISTERS ISLAND CRUISE (4 days/3 nights)
Praslin / Mahé
This cruise takes you from Praslin to Mahé via Curieuse and its outstanding beach, with a stop in Saint Pierre islet so typically seychellois,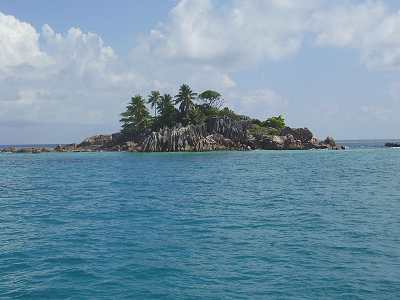 as well as in the most beautiful moorings in Praslin.
LA DIGUE SAILING CRUISE (4 days/3 nights)
Mahé / Praslin
Starting from Mahé, you will anchor in St Anne Marine Park, then sail on to the Cocos Islands, where the water is home to a natural aquarium, then visit La Digue, one of the most beautiful islands in Seychelles, as well as in Curieuse and Praslin, where you will be able to visit the Vallée de May.